Grunnstenen til den første nasjonalparken, ikke bare i USA, men i hele verden, Yellowstone National Park i Wyoming, ble lagt i 1872. Det ble begynnelsen til det som er blitt kalt for USAs beste ide, eller beste oppfinnelse.
Nedenfor finner dere en oversikt over de 63 nasjonalparkene som ligger spredt ut over USA. Nasjonalparkene strekker seg over områder som det bjørnerike Brooks Falls i Katmai National Park i Alaska og den tørre, ørkenaktige Death Valley i California til de store våtmarksområdene i Everglades National Park i Florida og den sjarmerende tre- og steinrike Acadia ved kysten i Maine.
Nasjonalparkene finnes i mange amerikanske delstater, men det er en klar overvekt i det vestlige USA og Alaska. California er med 9 nasjonalparker den delstaten som har flest nasjonalparker, deretter følger Alaska med 8 og Utah med 5.
1. Acadia, 2. Arches, 3. Badlands, 4. Big Bend, 5. Biscayne, 6. Black Canyon of the Gunnison, 7. Bryce Canyon, 8. Canyonlands, 9. Capital Reef, 10. Carlsbad, 11. Channel Islands, 12. Congaree, 13. Crater Lake, 14. Cuyahoga Valley, 15. Death Valley, 16. Dry Torgas, 17. Everglades, 18. Gateway Arch, 19. Glacier, 20. Grand Canyon, 21. Grand Teton, 22. Great Basin, 23. Great Sand Dunes, 24. Great Smoky Mountains, 25. Guadalupe Mountains, 26. Hot Springs, 27. Indiana Dunes, 28. Isle Royale, 29. Joshua Tree, 30.  Kings Canyon, 31. Lassen Vulcanic, 32. Mammoth Cave, 33. Mesa Verde, 34. Mount Rainer, 35. New River Gorge, 36. North Cascades, 37. Olympic, 38. Petrified Forest, 39. Pinnacles, 40. Redwood, 41. Rocky Mountain, 42. Saguaro, 43. Sequoia, 44. Shenandoah, 45. Theodore Roosevelt, 46. Virgin Islands, 47. Voyageurs, 48. White Sands, 49. Wind Cave, 50. Yellowstone, 51. Yosemite, 52. Zion.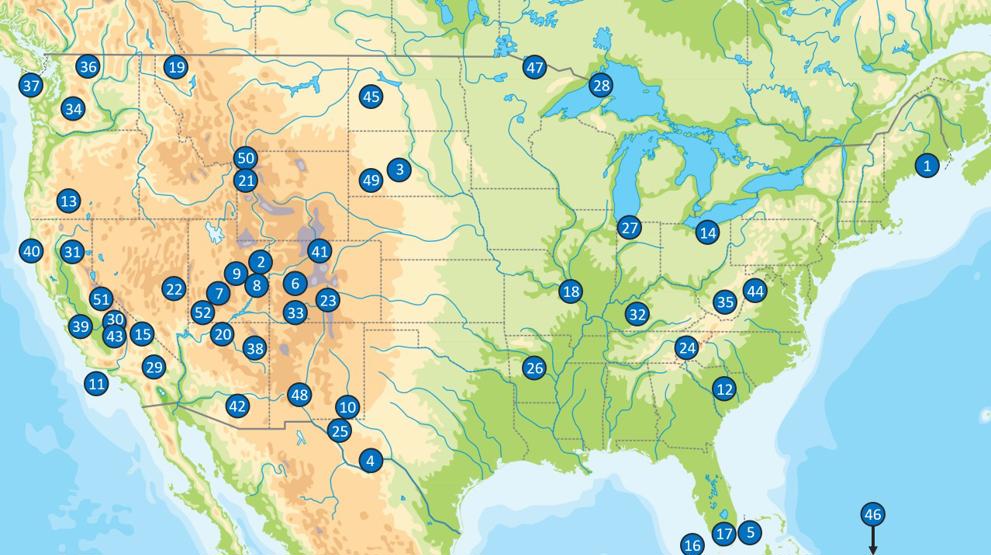 Alaska
53. Denali, 54. Gates of the Arctic, 55. Glacier Bay, 56. Kenai Fjords, 57. Katmai, 58. Kobuk Valley, 59. Lake Clark, 60. Wrangell-St. Elias.
Stillehavet
61. American Samoa, 62. Haleakala, 63. Hawaii Volcanoes.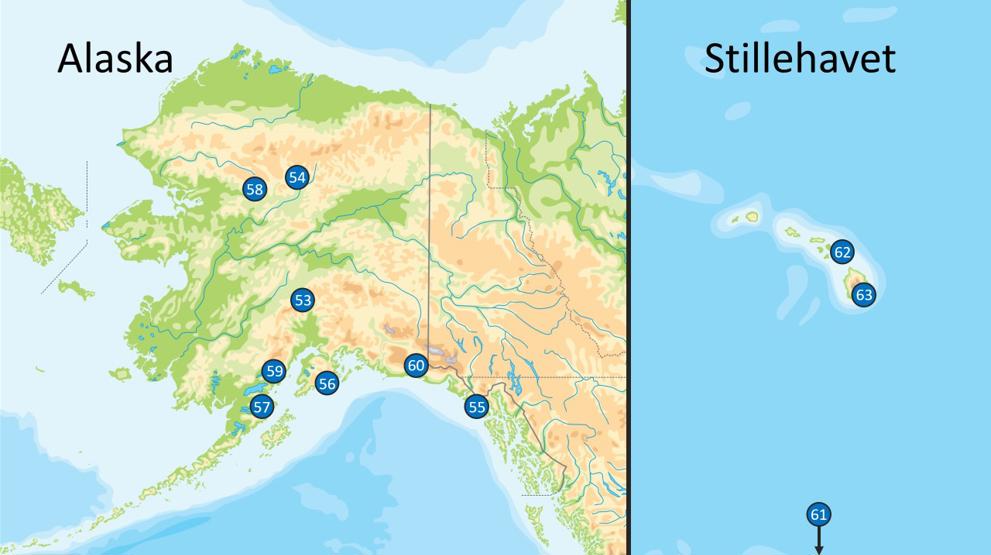 Colorado
Black Canyon National Park 
Great Sand Dunes National Park 
Mesa Verde National Park 
Rocky Mountain National Park 
De Amerikanske Jomfruøer
Virgin Islands National Park 
Florida
Biscayne National Park 
Dry Tortugas National Park 
Everglades National Park 
Hawaii
Haleakala National Park 
Hawai'i Volcanoes National Park 
Indiana
Indiana Dunes National Park 
Kentucky
Mammoth Cave National Park 
Maine
Acadia National Park 
Michigan
Isle Royale National Park 
Minnesota
Voyageurs National Park 
Missouri
Gateway Arch National Park 
Montana
Glacier National Park 
"National parks are the best idea we ever had. Absolutely American, absolutely democratic, they reflect us at our best rather than our worst."

Wallace Stegner (1909–1993)
Amerikansk forfatter, historiker og miljøverner.